Buy-now by clicking on the picture below for easy and secure ordering, and get 10% off when you enter code VC10010 with any purchase over $100. Shipping is included in the prices shown, and if you have any issues with online ordering, please contact us at CustomerServi[email protected].

For all of our products, you can also buy at Amazon.com (just click on the orange Amazon icon)
---
Breast Forms & Inserts  After breast surgery a woman can feel emotionally and physically drained, and choosing a breast form should be a worry and stress free decision. From the beginning, Trulife have created the world's most natural, life-like breast forms to restore confidence and make you feel like yourself again.
---
ActiveFlow (style 630) is the newest concept in active-lifestyle breast form design! It's your perfect companion for all active and leisure activities such as yoga, gardening, exercise classes, swimming and jogging.
Lightweight mono-prene beads do not absorb water and dry quickly

The beads move and flatten when lying down, giving a natural and flattering profile

Molded with fast-dry spacer fabric

Water resistant satin draw string bag can be used to carry damp items or wet swimsuit
---
Silk (style 471 light color and 483 dark color)  The innovative skin is silky-soft and offers unparalleled softness and suppleness. All Silk breast forms offer a natural drape not found with other breast forms.
---
Impressions II Triangle (style 101). Impressions II shares the best features of the Impressions breast form but with a shallower profile, based on the world's #1 selling breast form, Trulife's Silk Triangle.
Advanced lightweight honeycomb design for enhanced durability and breathability

Enhanced finely tapered edges provide an intimate and seamless fit

Features an even softer and silkier surface for the most natural feel imaginable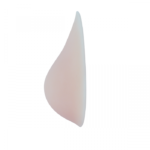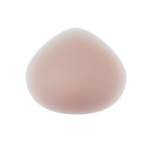 ---
Sublime Aris (style 151)  Sublime Arís offers all the outstanding features of the original Sublime, with the following modifications:
Fuller projection

Smaller base for an enhanced fit

Thinner skin-like outer layer for a delicate soft feel

Extra soft middle layer to mimic the movement of natural breast tissue

A subtle, hand embossed integrated nipple and areola

New engraved bow on the back
---
FirstFit (style 607) A new soft and lightweight symmetrical triangle shape form for post-surgery and leisure wear.
Seamless molded front for a smooth and flattering profile.

Soft and moisture-wicking COOLMAX® fabric on the back offers breathability and moisture management to keep the skin cool and comfortable.

Its fullness is easily adjusted by adding or removing fiberfill through the back opening – ideal for use after breast surgery, between radiation therapy sessions, for leisure wear or due to lymphedema or skin sensitivity.

Extremely soft fabrics keep the sensitive area free from pressure to optimize comfort

100% hypoallergenic polyester fluff.

Extra fiberfill included for customized adjustment.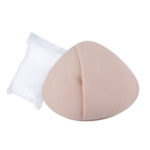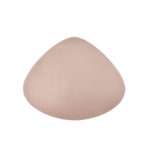 ---
Tri-Leisure Triangle (style 611) Leisure and post-surgical
Triangular shaped soft foam breast form fits securely in post-surgical camisoles and pocketed bras

Inner weighted core provides minimal weight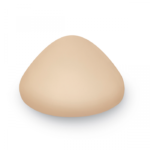 ---
Tri-Leisure Featherweight (style 616) Leisure and post-surgical
Triangular shaped foam breast form fits securely in post-surgical camisoles and pocketed bras

Soft and non-weighted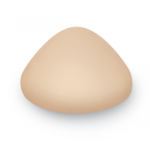 ---
Supreme (style 505) Traditional asymmetrical shaped breast form.
Asymmetrical shape replaces tissue at upper chest and underarm

Concave back accommodates excess tissue

Emulates natural breast tissue

Translucent color adapts to natural skin tone

Provides optimal weight balance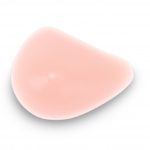 ---
Triangle Lightweight (style 904)
---
For all of our products, you can also buy at Amazon.com (just click on the orange Amazon icon)

---
For additional information, please visit the Trulife website by clicking on this logo:

---
For fitting assistance, please see the following downloads: